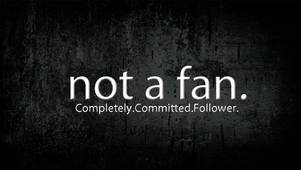 "Not A Fan"
will be a six week commitment by participants starting on Wednesday July 30 from 6:30-7:45. Each participant will be given a 40 day devotional that will enhance their spiritual growth and the series understanding. Here's the difference between a fan and a follower. fan: an enthusiastic admirer.In the Gospels, Jesus never seemed too interested in fans.
Is that how you define your relationship with Him? An "enthusiastic admirer"? Close enough to Jesus to get the benefits but not so close to require sacrifice?
He was looking for followers. Not just any follower though, but a...completely. committed. follower.How would things change if you lived as Jesus lived, and loved the way He loved?
Maybe you're ready to join the hundreds of people who have stepped across a line and said:i am not a fan.Please take some time and go to the website for more information.
http://www.notafan.com
---